CELEBRITIES & REMARKABLE PEOPLE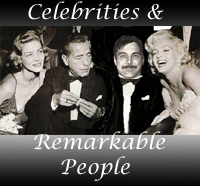 This page is to list the many extraordinary individuals who, through determination and devotion, have excelled in their sport, bringing a new appreciation to what a person is capable of. Each has a story and each has a lesson we can learn.
Many events in my life previous and during the dark times; the anthrax contamination from terrorist and the 9/11 tragedy led me to my mission; If you are interested in learning more detail of me, my team and our mission -- just click on both the "Mission Statement" and the "Bio & Philosophy" Buttons to the left of the main page. if you are interested knowing more about me, or if you have any questions please contact me at my e-mail address.
If you have any comments that you would like to share with others please go to the blog portion of this site. Click on: http://ourmissionpossible.blogspot.com/
Celebrities/our-mission-possible/blog
Heroes & Other Remarkable People/our-mission-possible/blog
Who is Neo Really?/our-mission-possible/blog
The Remarkable People On My Route/our-mission-possible/blog
Your interaction, ideas and opinions are certainly welcome.
Thank you for joining me. Sincerely --- Vinny